Complete Online Voting Solution for the Community Association Industry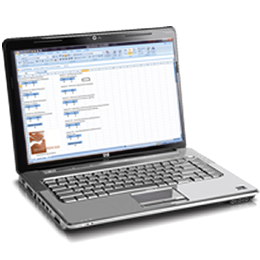 Homeowners can't always be present for in-person voting. Allowing homeowners a place to vote online for measures and officials engages them in the election process. More and more people use the Internet at least occasionally or for regular events like paying bills. According to the Pew Research Center's Internet & American Life Project, of Americans living in households that earn $75,000 or more annually, 95% use the Internet at least occasionally. Of those Internet users, most of them use the Internet at home and 93% of these Internet users use a high-speed connection. Additional browsing popularity is rapidly growing on tablets and smart phones.
Associations might be concerned that older residents won't use online voting due to concerns about Internet security but that concern might be obsolete. According to Jeffrey I. Cole, director of the Center for the Digital Future at the USC Annenberg School for Communication, "The perception is that Americans over 50 only dabble on the Internet but we are finding that they are increasingly spending time online becoming involved in robust Internet activities, such as online communities. In specific areas, there is often little difference in use of online technology between older users and some of the youngest users."
Homeowner associations that use our online voting solutions find that electronic voting is safe and secure. Homeowners appreciate the ease and security of online voting. Assigning election adminsitration to an independant, impartial third-party entity gives residents and managers alike, peace of mind, and provides an extra layer of security to the voting process.
The Inspectors of Election will take your Association Election Online from A to Z. You do not need to be a programmer to take advantage of our online elections. Do not stress about getting email reminders out or making sure that your email list is good. We administer your online election in a turnkey fashion. This all inclusive service is what separates us from our online voting solution competitors. The Inspectors of Election will manage your election from a Call for Candidates to Election Certification as an independant third party.
Our full online voting solution is as follows:

1) Online Candidate Solicitation - Our online candidate form can be completely customized to enter any questions desired. Association members are provided a user name and password to access the site to enter their candidate statements. Once entered, we check them for fraudulent or misleading information and check their eligibility with the association.
2) Online Voting Site Preparation is coordinated after review of association governing documents and civil codes. Your membership list is verified for consistency and uploaded. Upon an initial email being sent, we weed out the email addresses that are not valid and maintain that information for the association. Information is never shared with anyone outside our company.
3) Official notice is emailed out with explicit instructions on how to get enter the site and instructions of how to place HOA member votes. If you do not have Emails for your members, we will snail mail instructions and appropriate credentials tor members to access the system and view your specific association materials and vote online.
4) Quorum tracking and results tabulation is done in real time. We provide association administrative access to monitor quorum and upon poll close access the results of the election. Election results are not released before the close of polls so the purpose of the association vote cannot be swayed during the polling period. Request a Quote
TIEiVote™ Online Elections and Online Voting offers a variety of effective solutions for your Association.