Manager of the Year Award
The Nation's Premier Award for Community Managers
Voting from April 4, 2016 through April 15, 2016


The Inspectors of Election, LLC (TIE) has been appointed as the facilitator and oversight authority for the "Manager of the Year" Contest voting. We are pleased to be part of this event and always support providing recognition where it is due.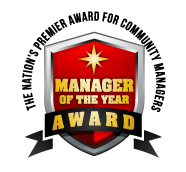 The online voting begins on April 4, 2016 and closes on April 15, 2016. The overall winners will be determined by a vote conducted by three separate entities:
General public (family, friends, co-workers, board members, vendors, industry professionals can all vote)
Sponsors (conducted by 1 designated representative from each company)
Council of Community Association Professionals (CCAP) - an independent council of highly-respected industry professionals


The Top 3 Finalists in each category will be assigned points based on the voting results. Each voting entity will be weighed equally and will account for 1/3 of the final decision. (e.g., the Finalist who receives the most public votes will get the same number of points as the Finalist who receives the most votes from the Sponsors or CCAP). The points are then totaled, and the On-Site Manager Finalist and Portfolio Manager Finalist with the most overall points are determined the contest winners.